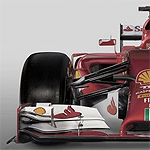 In the last months many words have been spent about the bad handling of Ferrari's F1 car (the F14T project). Debate revolved mainly about the unusual pull-rod front suspension scheme.
Now, there's a lot of speculation about the new Ferrari F1 project, about this topic: a pull-rod scheme will be used again for the 2015 car?
In my opinion, the problem of the F14T has never been the push or pull-rod scheme. The problem is with the configuration of the double-wishbone.
For aerodynamic reasons the attachment points of Ferrari front wishbones are very high; this solution gives an highly "sloping" configuration of the suspension arms, a thing that is immediately noticeable from a front picture of the car. Such a solution makes the front tyre, when the suspension moves, travel not only in the vertical direction, but also laterally; in other words, whenever there is a pitch movement of the car nose, the wheel track changes.
Of course, too much lateral movements of front tyres increase tyre wear, because additional lateral slip is added; so, this suspension may work only if combined with very stiff setups. And a stiff front setup means, usually, understeer.
So, the real problem about the new Ferrari F1 project is not whether it will sport again a pull-rod scheme or not; the real problem is that, unless the front suspension is heavily modified (attachment points etc.), the car will be again heavily understeering; and given the fact that both Ferrari drivers, Kimi Raikkonen and Sebastian Vettel, don't like at all an understeering car, that will be really a problem!
It seems, from rumors, that James Allison, the new Ferrari technical director, is making changes to the original project (as designed by Tombazis), especially in the front part of the car; let's hope that such changes will positively affect the new Ferrari F1 car handling!
---