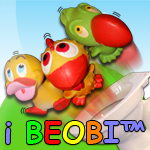 Some time ago, I wrote a silly game featuring the little Beobi creatures.
It's available on Google Play, for free, for the Android platform (smartphones, tablets). Language is italian, but the game logic is very simple – throw the Beobi down the toilet, where they are coming out from, and push the red button to flush'em up!
Feel free to download the game and enjoy it!
---